5 Year Structural Warranty
1 Year Electrical
These lifts are designed to move goods and materials between multiple floor levels
quickly and safely. They may be configured for C, Z, or L loading patterns between
floor levels and are available in a wide variety of platform sizes and capacities.
No riders are allowed. Models may be floor mounted or pit mounted. Mechanical units are well suited to multiple level stops.Enclosures are quoted separately.
SPECIAL FEATURES & BENEFITS
All of our controllers are assembled in our UL listed panel shop
These units conform ASME B20.1
These units also conform to VRC Guidelines – as referenced in ASME B20.1
Motors are equipped with integral holding brakes
All units have double chains
The carriages also have mechanical locking brakes in case of chain failure.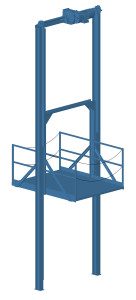 SPECIFICATION TABLE STRADDLE MAST MECHANICAL
Platform
Size (in.)
Low
Overall(in.) Min Platform
Travel
Carriage
Speed
Model
Capacity
Min
Max
Ht(in.)
Height
Width
Depth
Max(ft.)
Height
(FPM)
HP
VCM-1
1,000
48 x 48
96 X 96
2.25
110+Travel
48
64
  100
  84
 30
3
VCM-2
2,000
48 x 48
96 X 96
2.25
110+Travel
48
64
  100
  84
 30
4
VCM-3
3,000
48 x 48
96 X 96
2.25
110+Travel
48
64
  100
  84
 30
5
VCM-4
4,000
48 x 48
96 X 96
2.25
110+Travel
48
64
  100
  84
 30
7.5
VCM-5
5,000
48 x 48
96 X 96
3.25
110+Travel
48
64
  100
  84
 30
7.5
VCM-6
6,000
48 x 96
96 X 96
3.25
110+Travel
48
64
  100
  84
 30
7.5
Platform
Size (in.)
Low
Overall(in.) Min Platform
Travel
Speed
Model
Capacity
Min
Max
Ht(in.)
Height
Width
Depth
Max(ft.)
(FPM)
HP
VSM-1
1,000
48 x 96
96 X 96
2.25
TDB
68
48
100
30
3
VSM-2
2,000
48 x 96
96 X 96
2.25
TDB
68
48
100
30
4
VSM-3
3,000
48 x 96
96 X 96
2.25
TDB
68
48
100
30
5
VSM-4
4,000
48 x 96
96 X 96
2.25
108 + Travel
68
48
100
30
7.5
VSM-5
5,000
48 x 96
96 X 96
3.25
110 + Travel
68
48
100
30
7.5
VSM-6
6,000
48 x 96
96 X 96
3.25
110+ Travel
68
48
100
30
7.5